Were you wondering if African Black Soap makes acne worse? Well, I was wondering the same thing. Let me tell you what I discovered.
The Frustration of Dealing With Acne Breakouts
If you are suffering from acne breakouts and uneven skin tone as a result of blemishes, you are not alone. I, too, was suffering from this and felt insecure. I had tried many products to cure my acne breakouts, but nothing ever did the trick. You can understand my frustration.
Then I heard about African Black Soap and was skeptical at first, but after in-depth research and reading many positive reviews, I bought a piece of soap and added it to my skincare routine.
Affiliate Disclaimer
: As an Amazon Associate I earn from qualifying purchases. If you click through and make a purchase, I may earn a commission, at no extra cost to you.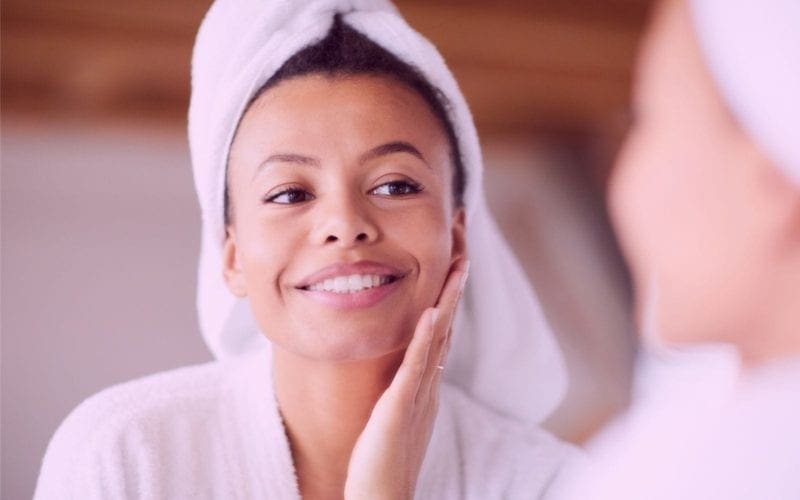 What is African Black Soap Anyway?
Before I go any further, what is African Black Soap anyway? It's a natural, chemical-free soap from West Africa, usually from Ghana or Nigeria. African Black Soap is also known as Alata Samina, Onago Soap, or Ose Dudu.
The ingredients of African Black Soap vary, and it depends if the production of the soap took place in Ghana or Nigeria.
African Black Soap Usually Consists of The Following Ingredients:
Unrefined Shea butter which moisturizes the skin
Camwood (osun) also known as African Sandalwood, which has anti-inflammatory properties and helps improve the blood circulation
Cocoa pod powder is known to heal scars
Coconut oil nourishes the skin
Plantain skin prevents acne
Palm kernel oil has antibacterial properties
Water
Honey, soothes the skin and has antibacterial properties
Aloe vera, antioxidants and anti-inflammatory
Essential Oils, to give the soap a lovely scent
How is African Black Soap Made?
The process of making black soap is by sun-drying the tree bark, cocoa pods leaves, and plantain, which are then roasted and turned into ashes. The combination of ingredients is called potash. The potash is mixed in with water, coconut oil, palm kernel oil, and shea butter. The soap then sets and needs to harden for approximately two weeks.
The Texture of Black Soap
The soap is crumbly in texture, softer than regular bath soap and has an earthy scent. It has antibacterial and anti-inflammatory properties. It is an excellent ally in helping you fight acne and keeps your acne breakouts from reoccurring.
The soap naturally has iron, vitamin E, and F and has an earthy scent. It can be purchased in an unscented version or with added essential oils, like lavender or lemongrass for a pleasant fragrance. It does contain natural lye that occurs from the ashes of the plantain skin, which is part of the soap. If you are not sure what lye is? It is sodium hydroxide (salt). When you mix this with oil and it saponifies, it becomes soap, which is different from the African Black Soap production.
Patch Test on Your Skin
Black soap contains latex from the ashes of the plantain skin, and also contains caffeine from the cocoa pods. If you have any latex or caffeine sensitive related allergies, I suggest doing a patch test on the inside of your upper arm, where your skin is sensitive, before you use it.
The Benefits of African Black Soap
It is considered to be beneficial for oily and acne-prone skin. It cleanses your skin and could bring underlying skin impurities to the surface and get rid of excessive oil. It's known to prevent breakouts and reduces the appearance of scars. Ultimately to ensure a smoother complexion if used routinely.
Let me tell you more about my experience with Black Soap.
How to Use African Black Soap
I bought a 12 oz bar of light brown, black soap, which came wrapped in plastic and looked very rustic. Depending on the soap production, the color can vary from light brown to deep black. It is different from your everyday bar of soap as it's crumbly in texture. Don't use it as a bar of regular soap and in high concentration. You use it by breaking off a small piece and adding a few drops of water. The soap lathers up reasonably quickly.
Don't Use Black Soap in The Steaming Hot Shower
The first time I tried the soap was on my face while taking a hot shower. My face felt squeaky clean, but shortly after, I started experiencing breakouts. I couldn't help but wonder if the reviews I read about African Black Soap were so positive, why would it not do its job right away? Don't worry; this is not how the story ends.
There is a light at the end of the tunnel. Read on!
It Could Purge Your Skin, But That's a Good Thing!
The reason why I was getting breakouts is that my skin was getting rid of the underlying impurities. In other words, my skin was purging. Black soap clears the excessive oil from your skin. Therefore, it could also dry out your skin, as it did to mine, and strip out the natural moisture. However, this doesn't necessarily happen to everyone. The fact that I had used the African Black Soap in the steaming hot shower contributed to the dryness I was experiencing in my face. To combat this, I used unrefined Shea butter or cocoa butter to help me replenish the moisture in my skin.
It Cleared My Body Acne
I used to suffer from acne on my upper arms from my regular workouts. Since I started showering with African Black Soap immediately after my workout, this has stopped and has not returned. The scars on my upper arms are slowly disappearing too. I highly recommend using black soap on acne spots.
Does African Black Soap Clog Pores?
African Black Soap is great; it unclogs pores and does not darken your skin. It helps with hyperpigmentation. When you use African Black Soap for face wash, watch out for sharp particles as these could scratch your skin.
Other Uses For African Black Soap
It is suitable for use on your face, body, or hair. African Black Soap does not spoil. You should store it in a ziplock bag or tight container, so it doesn't dry out. Be sure to keep it away from moisture.
How Often Should I Use Black Soap?
Use it every other day, with lukewarm water and see you how your skin reacts. You can always decide to change your routine to daily use. If you experience acne breakouts, remember it will only be temporary. If you notice your skin reacting negatively to the soap, it's likely doing its job, and removing the impurities. It means you're on your way to clear skin and, depending on the severity of your acne; it could take one to three weeks for your acne to clear up.
Does African Black Soap Make Acne Worse?
Is African Black Soap Making Acne Worse? That would depend on your skin type. I have dry skin, and my skin was purging because it wanted to get rid of underlying bumps and impurities. Not everyone's skin will react the same.
Once my skin recovered, I stayed away from hot water and kept up my routine by washing my face above the sink and rinsed with warm to cold water. My face seemed to react fine, and the soap was no longer causing acne. My skin appeared to be bright and healthy because the underlying impurities were gone. It did its job!
Since then, I have used African Black soap on a nightly basis before going to bed. I also like to use it as a natural exfoliant, especially after I have removed my make-up, so my face gets a good clean. I have used Shea butter and cocoa butter ongoing to keep my face moisturized.
African Black Soap Helped Make my Acne Disappear
There is nothing pleasant about suffering from acne. Ideally, you want it to go away overnight. Unfortunately, it's not so easy, but remember there is a pathway to clear skin. I lived through it myself. There is no such thing as an overnight solution, but there is a long term solution. The key is to be patient. With that said, it took a few weeks for the acne on my face to disappear. I'm glad I tried African Black Soap. In the long run, it has worked great! No, more breakouts! Just beautiful, healthy, smooth skin!
Conclusion
The moral of the story is, don't be afraid to try African Black Soap As I mentioned in this article, if you experience breakouts and you will let it do its job, your reward will be beautiful skin and a smooth complexion. As you probably know, another vital point to remember is that diet and sleep, play a pivotal role as well, if you want to keep your skin acne-free. The only breakouts I have experienced over the years were diet-related, but black soap itself has never caused any more issues for me.
What African Black Soap Should I Buy?
When you buy a piece of black soap, I suggest going with any authentic brown looking piece of black soap that consists of the ingredients mentioned above that the soap is supposed to contain. Below you will find the products I purchased. These are the most popular options and my personal favorites.
View Products
Affiliate Disclaimer
: As an Amazon Associate I earn from qualifying purchases. If you click through and make a purchase, I may earn a commission, at no extra cost to you.
Products from this article.
1. SheaMoisture African Black Soap
2. SheaMoisture African Black Soap Body Wash
---
Our Related Posts